The Velvet Underground - Connections Central
The Velvet Underground where one of the most influential and referenced groups and following their influence and connections leads in all sorts of directions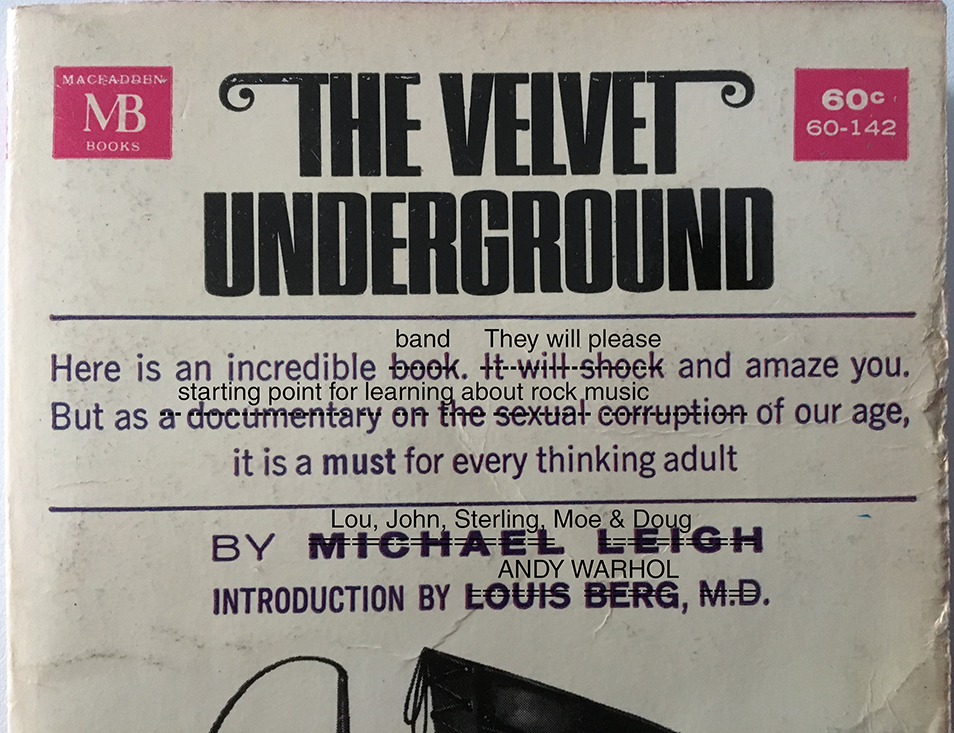 I read a lot about the Velvet Underground, before ever hearing their music. The reason was simple, their records weren't available, nor were they played on the radio. I stumpled on the Velvet Underground reading "The Illustrated NME Encyclopedia of Rock". I quote verbatim, "The seminal New York City band and one of the most important influences in rock, through never accorded during their existence the recognition their pioneering music warranted". In retrospect the sentence was longer than it need to be, but it sounded intriging none the less.  There was a Warhol connection, minimalislm, Lou Reed and sex, drugs and rock'n'roll.  So in 1977 I went on a search for the "Velvet Underground and Nico", some ten years after its release. The effort was in vain, the record was unavailable in all of Melbourne's record shops. Not to be deterred, I continued to read a lot more about the Velvet Underground before finally managing to find a copy of "the banana album", at "Archie & Jugheads" (soon to be Missing Link Records, the home of Birthday Party).
On finding the new treasure, I played it on the best headphones of my dad's hi-fi (not stereo ;-) ). "Sunday Morning" was so plaintive and melodic, not what I was expecting. All the songs were immediately accessible.  There was no "avant garde" barrier to scale to like the music.  No need listen to it 5 times to appreciate its musical qualities or lyrical content. Even my sister liked it. I became a Velvets collector from albums to books to related music.
So this blog is mostly about how the Velvet Underground became "connection central" for many areas of musical interest plus a small observation of one of the key qualities of Velvets music that makes it distinctly different from most rock music.
First the connections that the Velvet Underground feed into:
| Connection | Comments |
| --- | --- |
| La Monte Young | John Cale's time with "The Theatre of Enternal Music" was well documented almost at the outset and become the starting point for research on the minimalists composers. |
| Terry Riley | John's involvement with La Monte Young, also resulted in direct collaboration with Terry Riley, who's "In C" set the tone for many future minimalist compositions. Its complete score fits on a page. |
| Angus Maclise | Original Velvets drummer and La Monte Young player, who's Year calendar is often referred to in La Monte Young's titles. |
| David Bowie | Paid homage to the VU on Hunky Dory and produced Transformer. |
| Eno | Paid tribute to the impact of Velvets and collaborated with John Cale on numerous occasions and with Nico |
| Nico | The often referred to Fellini connection through role in "La Dolce Vita" and whose Cale produced albums are totally unique. |
| Robert Quine | The Richard Hell & the Voidoid guitarist who recorded many of the available of historical live Velvets recordings. He went on to play on a number of Lou Reed albums. Quine also worked with Ikue Mori of DNA (No Wave/Eno) and Mathew Sweet (along with Richard Loyd of Television) |
| John Cale | Produced many of the defining punk albums (The Stooges, Patti Smith, The Modern Lovers) as well as most of Nico's releases. |
| George Scott III | Who played bass guitar on a number of key "No Wave" releases and was in Cales "Sabotage" band and who's driving bass is critical element of Contortion No New York contribution. |
| Robert Wilson | Playwright/director of "Einstein on the Beach" fame (with Philip Glass) collaborated on "Timerocker" with Lou Reed. |
---
A unique quality of the Velvet Underground, that rarely seems to raise a comment, is how the music brings context to the lyrical content. This is different from most pop/rock music, where you have a melody and rythym with some lyrics and vocals spooned on top.
Examples of this are on everywhere...from beginning to end.
| Title | Quality |
| --- | --- |
| I'm Waiting for the Man | The train like chug. |
| Venus in Furs | Never has music and lyric been so well matched in setting tone and mood for a song. |
| Heroin | The changing tempo of anticipation, rush and decline. |
| The Murder Mystery | The disorienting mix and music of intrigue. |
| Rock & Roll | Straight forward and up tempo R&R that saves Lou. |
| New Age | Tone of music, mirrors the wistful lyric. |
| Lonesome Cowboy Bill | Country music for country cowboy. |
| Train Round the Bend | Train music again. |
| Ocean | The thunder of the music echos the thunder of the waves. |
---
How thing have changed. I regularly hear Velvets songs, while queuing for coffee in the morning, on the radio and recently I heard a busker covering Heroin outside the supermarket. The Velvets are no-ones secret interest anymore.
---
References:
The Illustrated New Musical Express Encyclopedia of Rock - Nick Logan / Bob Woffinden (Salamander 1977)
Experimental Music - Cage and beyond - Michael Nyman (Schirmer Books 1974)
The Evolution of Electronic Music - David Ernst  (Schirmer Books 1977)
The Rolling Stone Illustrated History of Rock & Roll - Edited by Jim Miller (Rolling Stone Press 1976)